Jam & Jamex
Exquisitely harmonizing simplicity of architectonic design, modern quality and futuristic openness, JAM's executive series designed in balance of individual activity and the flexibility needs of business. With an effectiveness that maximizes work efficiency, and with a functionality that is appropriate for a number of different styles of work...
First-class Details Give Expression to Luxurious Texture
Jam&Jamex emphasizes each detail, and metal hardware serves as decoration to highlight elegance. The thin-edged table, in contrast to the metal hardware, retains the traditional stability and adds a modern touch.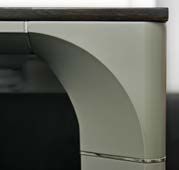 Luxurious touch, exquisite craftsmanship
Streamlined and Steady

Jam&Jamex has user-friendly design, focusing on the interaction between people and space. Conference desking is available with a variety of specifications. It is ideal for both formal conferences as well as small meetings. The design is smooth and streamlined with appropriate wiring system.
Elegant and Harmonious Charm

The overall design is simple and generous. The executive desk and supporting storage system are available with a range of options, matching the changing demand of modern office. The stand-alone table results in a cleaner and cozier space, freeing you from piled files and facilitate efficiency.